Tenant Handbook
LEED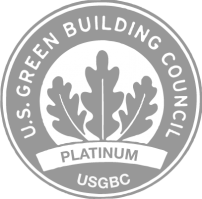 Leadership in Energy and Environmental Design (LEED) is a set of rating systems for the design, construction, operation, and maintenance of green buildings, homes and neighborhoods. According to the USGBC, there are nine key areas measured by LEED:
Sustainable Sites
Water Efficiency
Energy and Atmosphere
Materials and Resources
Indoor Environmental Quality
Location and Linkages
Awareness and Education
Innovation in Design
Regional Priority
Buildings can qualify for four levels of certification:
Certified: 40-49 points
Silver: 50-59 points
Gold: 60-79 points
Platinum: 80 points and above
An established landmark anchoring San Francisco's Mission Corridor, Salesforce West is setting new standards for sustainability with its LEED Platinum Certification for the "Existing Buildings: Operations and Maintenance" category. By earning the Platinum certification, Salesforce West is further distinguished as being the largest multi-tenant office building to ever attain the U.S. Green Building Council's highest rating.
Salesforce West has changed both its processes and procedures, as well as building infrastructure, to achieve LEED Platinum certification (i.e. day time cleaning as well as motion sensors to reduce energy consumption, etc).
Salesforce West has continued to pursue higher levels of sustainability since achieving LEED Platinum, including the addition of Electric Vehicle charging stations and additional energy saving initiatives. The process of sustainability is ongoing.
The renovation of Salesforce West's lobby, entry's and plaza reflects the tower's LEED Platinum status in terms of planning and design. A key component of sustainability is seamlessly blending these public spaces with surroundings so they are utilized and active in their community, as well as being built with sustainable materials and focused on energy efficiency, etc.
97
ENERGY STAR® Rating outperforms 97% of comparable buildings nationwide
52%
MORE ENERGY EFFICIENT*
$2.18
ENERGY COST SAVINGS
53%
CARBON FOOT REDUCTION
4,593 tons saved annually*
85%
WASTE DIVERTED FROM LANDFILL
through recycling and composting
2 yrs
CONSECUTIVE BOMA EARTH AWARD WINNER
buildings over 600,000 square feet